Here are some book reviews from our Children's Staff!
From Miss Kate:
Escape from Mr. Lemoncello's Library by Chris Grabenstein. Available on Overdrive and Cloud Library.
 When twelve kids participate in a library lock-in at the grand opening of their new public library, they learn they must use their wits-and the library's resources- to escape and earn the creator's ultimate prize-the chance to star in all of his company's promotions!  Filled with humor, relatable characters, and a mystery that keeps you turning the page, this lighthearted parody of the survival genre (think Hunger Games without the weapons and battles) provides kids-and parents who are reading along- a source of escapism into a fun, exciting world filled with puzzles and trivia.
Brian's Winter by Gary Paulsen. Available on Cloud Library.
Readers of Gary Paulsen's Hatchet will thoroughly enjoy this hypothetical sequel. What would have happened to Brian if he was forced to spend the winter in the wilderness? This compelling tale takes you on a nail-biting journey of a young boy's ingenuity and survival instincts as he battles wolves, hunger, snowdrifts and freezing temperatures. Does he have what it takes to survive?
Big Bear Hug by Nicholas Oldland. Available on Overdrive.
What happens when a bear who loves everything meets a woodsman who is about to cut down one of his favorite things ever-a tree? This sweet environmentalist tale teaches us that the path through confrontation may not be exactly as we expect. With a sweet message and rustic-styled illustrations, this modern fable is bound to strike a chord-and possible conversation-with young and old audiences alike.
From Miss Kerri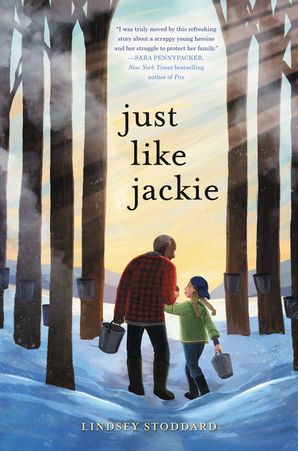 Just Like Jackie by Lindsey Stoddard. Available on Overdrive.
Robinson Hart loves her grandfather more than anything in the world. He is her only family and has taught her everything about fixing cars, making maple syrup and life in general.  The one thing he avoids talking about is her mother and where she came from.  She knows his memory is better in the morning, but some of the things that happen to him after the sun goes down scare her and she fears her future with her grandfather is in danger, along with her chance to know anything about her mother.  When a family tree project comes up at school, she sees it as her perfect (and maybe last) chance to finally get some answers out of her grandfather. Heartwarming and full of different issues kids may be dealing with, this story leaves you feeling hopeful and positive that everything will be ok.