Time for another round of Children's Staff Picks!
You can find these books by clicking on the cover to place a hold through our catalog.
Miss Kate's Picks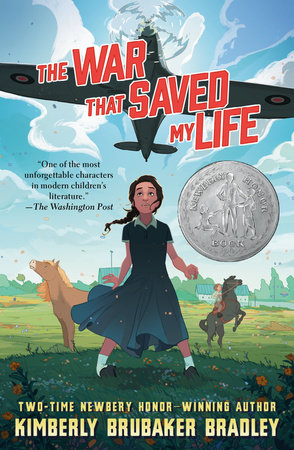 The War that Saved My Life by Kimberly Brubaker Bradley
Born with a twisted foot, Ada's mother has locked her up for most of her life-treating her like an abomination and never letting her outside. When her little brother, Jamie, tells her that children are being evacuated from London in fear that Hitler will soon bomb the city, Ada sees it as her chance to escape. While their mother is working late, Ada and Jamie devise a plan to leave early the next morning to make sure they make the train that is leaving for the country. Upon arriving, they find themselves forced upon Susan, a young woman who is dealing with her own issues and loss and who has no interest in children. Claiming to be "not nice" from the beginning, Susan turns out to be a truly caring guardian. The children quickly grow, learn, and change. Ada learns to ride Susan's pony, and in the process also learns that there is little she can't do if she truly puts her mind to it. Ada is a wonderfully realistic character, dealing with real post-traumatic stress in the midst of a war, and when she achieves a goal you will be cheering right along with her. Bradley seems to expertly pair the heavy despair with extremely heartwarming moments while never seeming cliché. Readers will truly enjoy the ride. For ages 9-12.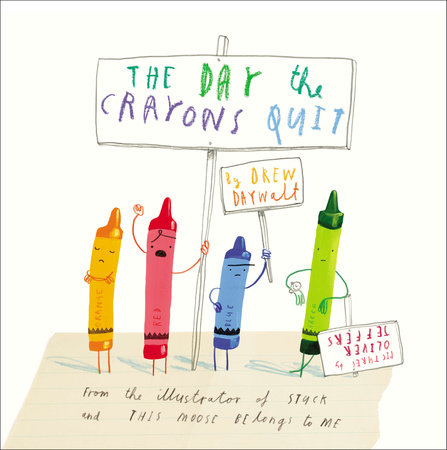 The Day The Crayons Quit by Drew Daywalt
The Day the Crayons Quit is a humorous tale of crayons on strike! Some are overworked, some are underworked, and still others are missing their wrappers! Writing their list of demands to their mystified owner, the crayons refuse to work until some changes are made. In just a few simple words, Daywalt's characters jump off the page, while Jeffers delivers lively and playful illustrations using several different mediums, adding an extra layer to the story. Children and adults will enjoy this new look at crayons and color. For ages 3-7
The Mysterious Benedict Society by Trenton Lee Stewart
When four exceptional children are recruited by a narcoleptic genius, they learn that they alone are the world's only chance to stop a deranged inventor. After several tests of character, Reynie, Sticky, Kate and Constance are chosen to attend the Learning Institute for the Very Enlightened in order to determine how its founder is sending out mental messages that are creating disdain and chaos throughout the world. Though it runs a bit long, Stewart's debut into children's fiction is filled with rich and complex characters, sly and often gross humor, and enough twists and turns to keep the reader entertained and guessing what will happen next. Low in violence, moral and ethical issues create the backbone of the action in this fantastical tale of wit and friendship. For ages 10-14.
The Insignificant Events in the Life of a Cactus by Dusti Bowling
Born without arms, Aven's adoptive family has always encouraged her to be independent. For this reason, at thirteen years old, Aven can do almost everything a "normal" teenager can do with her feet. She's never felt self-conscious, until her family moves to Arizona. Here, even her outrageous stories of how she lost her arms can't help her. It isn't until she meets Connor, a self-conscious boy with Tourette's Syndrome, and Zion, a painfully shy overweight black boy that Aven finally finds friends. Together, the three support one another through their respective hardships while trying to solve the mystery surrounding her family's newly acquired theme park. While the ending seems a little cliché and fairytale-esque, Bowling's depiction of rarely discussed disabilities and other issues is insightful, humorous, and informative. A fairly light read for ages 9-13.
The Enchantress Returns by Chris Colfer
The second book in the Land of Stories series brings us back to Alex and Conner, twins with ties to the fairy tale world, as they try to save it from the greatest threat it has ever known.  They search for their mother who they learn has been kidnapped by the Enchantress.  Full of twists and turns through many kingdoms, this series will take the fantasy-lover on a twisting adventure with two fearless kids who will stop at nothing to find their mother. 
Emily Windsnap and the Castle in the Mist by Liz Kessler
This is a series that doesn't necessarily need to be read in order. The story picks up with Emily going through her normal day of school, friends and parent troubles. She does this as her semi-mer self, changing from human to mermaid as she enters the water and then back to human as she gets back on dry land. The story jumps right into adventure and keeps the reader engaged all the way to the end as Emily attempts to defeat the curse of Neptune and bring peace and tranquility to the worlds of land and sea. A great jump for a reader who is ready for a little more than a chapter book, but not looking for the depths of a fantasy read like Harry Potter.
The Original Adventures of Hank the Cowdog  by John Erickson
A quirky tale of the adventures of a working dog.  Hank is the head of security at the ranch in charge of keeping the animals on the farm safe and to alert, Loper, the cowboy, if he needed to step in with more drastic measures.  Hank sets out to solve the murder of a chicken and ends up getting blamed for all sorts of things that are out of his control.  One thing leads to another and Hank decides he's had enough. His adventures continue off the ranch until he returns one day under very different circumstances.  This book would appeal to a young reader who is beyond a chapter book, but still wants a simple story with a lot of adventure thrown in.