The Junior Librarian Program is back for Summer 2023 for rising 5th-8th graders!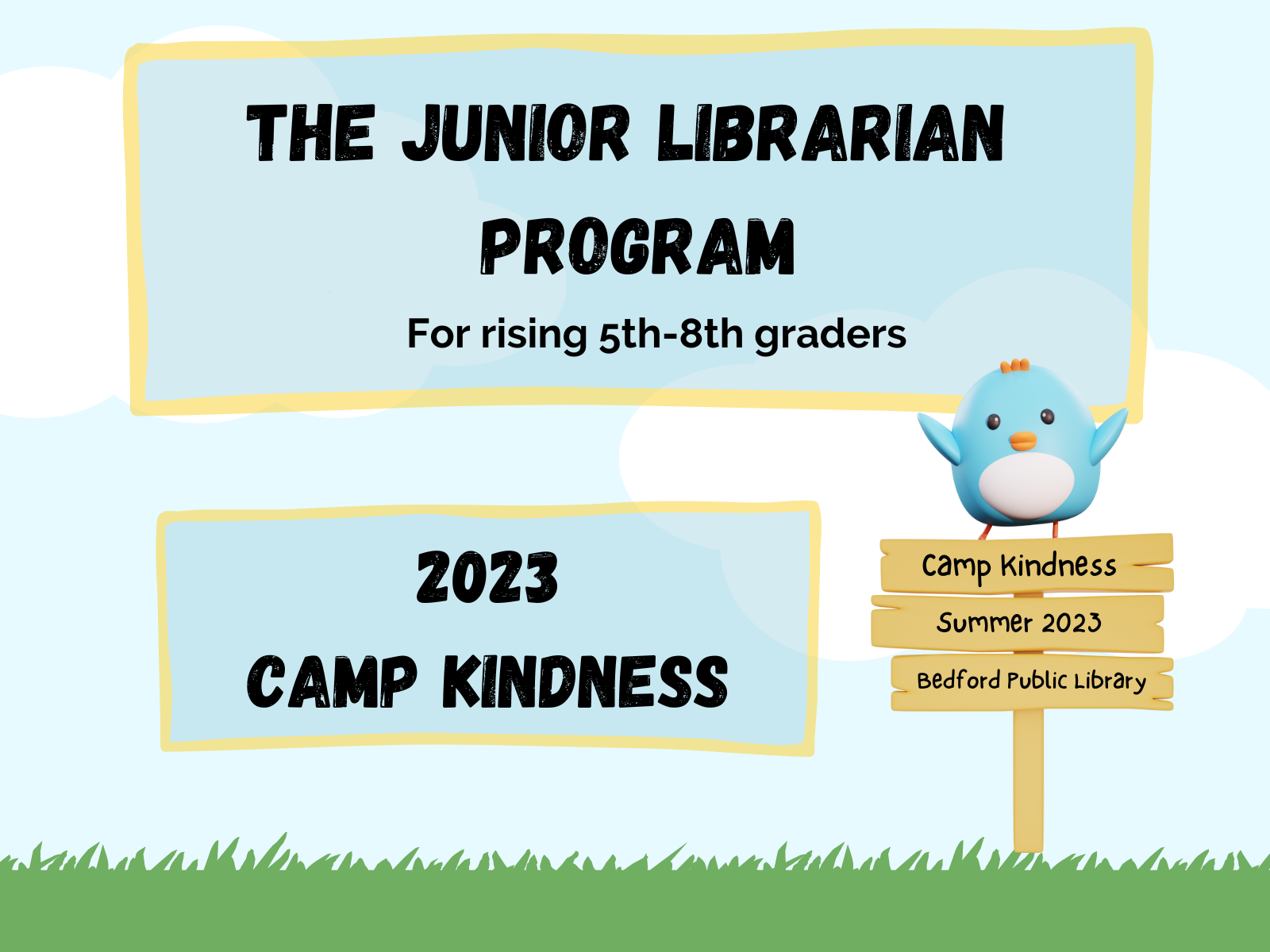 Registration for all Junior Librarian program blocks opens on Monday May 8.
Junior Librarian blocks are available from Monday June 19 through Friday August 4.
Register using our Junior Librarian calendar here.
Sign up this summer to be part of our super squad of Junior Librarians! One half of a 2 hour Junior Librarian block is spent greeting Summer Reading Program participants and handing out buttons as summer reading giveaways; the other half of a block is spent assisting young library patrons complete pre-prepared crafts in the craft castle. The Junior Librarian program is run by our summer interns and Children's library staff.

Junior Librarian FAQs
Who can register?
Junior Librarians is for rising 5th, 6th, 7th, and 8th graders. This program is open to Bedford cardholders only.
Will there be an orientation?
Instead of an orientation, we have offered 3 Junior Librarian Info Sessions this spring.
Attendance at the Info Sessions was not mandatory to participate in the Junior Librarian program.
Junior Librarians will be trained by the summer interns during their first block of the summer.
Can I leave my child for this program?
Caregivers for junior librarians may leave their child at the library during the program but must arrive promptly when the program ends to pick them up. Caregivers are required to walk their children into and out of the building - children may not be dropped off in the parking lot. The safety of any child in the library ultimately rests with that child's parent or caregiver. Junior Librarians must have caregiver contact information. Caregivers may be contacted if a Junior Librarian participant is disruptive and unreceptive to library staff guidance, or if a caregiver fails to pick them up at the end of the program. Caregivers are encouraged to review the library Child Safety Policy here.
How does registration work?
Registration for Junior Librarians works just like our program registration does – choose the blocks on our calendar that work for you and register using your Bedford library card. If you have questions, please give us a call at 603-792-1389.
When are the Junior Librarian blocks?
The blocks are Monday through Friday 9:30-11:30, 11:30-1:30, 1:30-3:30, or 3:30-5:00; Saturday 11:00-12:00 or 12:00-1:00.
Please note: The library closes at 5:00 on Fridays and caregivers will be expected to pick up participants promptly at 5:00.
Monday through Friday blocks have two spots available; Saturday blocks have one spot available.
Will I get a reminder?
Yes! You will get a confirmation email for any blocks you register for, as well as a reminder email 48 hours in advance of the program.
If I have to cancel, how should I let you know?
The best way is to use the cancellation link in the confirmation or reminder email you received. You can also call the Children's Room at 603-792-1389. We appreciate you letting us know of any cancellations so we can offer spots to others on our waitlist.
How many blocks can I sign up for?
This summer, we do not have a limit for the number of blocks you can sign up for. If we see that you are confirmed for several blocks that have waitlists, we may waitlist you for some blocks so that others may have a chance to participate in the program. You will receive a notification if you are waitlisted.
Can I sign up for a blocks with a friend?
Yes! There are two spots available for every block, one in the Castle and one at the Junior Librarian station. A Bedford cardholder can sign up for both spots at the same time to ensure that two friends can participate together. Both participants must be Bedford residents. If a friend signs up at a different time than you, we cannot guarantee that you will be able to participate together.
Can I have my phone and snacks on me for my Junior Librarian block?
We ask that all patrons eat any snacks and food outside of the library. Phones are expected to be put away and looked at in case of emergencies only.
Can Junior Librarians also participate in the Summer Reading Program?
Absolutely! We would love the Junior Librarians to also sign up for Summer Reading. Please keep an eye on our website for forthcoming Summer Reading information.
Have a question that wasn't addressed? Give us a call in the Children's Room at 603-792-1389.