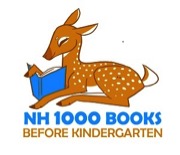 Read any book to your newborn, infant or toddler. The goal is to have read 1,000 books before your little one starts kindergarten. Does this sound difficult? Consider this: If you read 3 books before bed with your little one, you can reach the goal of 1,000 books in under a year! You may repeat books as many times as you'd like, as well.
After signing up, visit us in the Children's Room to get your coloring sheets to keep track of books you have read together. You may also download the coloring sheet at the bottom of this page. Color a book every time you read a book - even the repeats!
Sign up today to receive a prize when you reach 100 books read, 500 books read and the goal of 1,000 books! 
More questions? Give us a call at 472-2300.