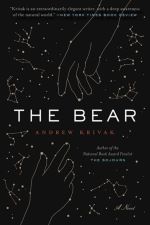 Join the Bedford Public Library, the Bedford Conservation Commission, New Hampshire Humanities and readers throughout the state of New Hampshire for the NEA Big Read! In September, October and November we'll be reading, discussing and exploring The Bear by Andrew Krivak.
Set in a post-apocalyptic future, The Bear is a story of the last two people on earth—a father and daughter. The novel explores powerful themes about the importance of intergenerational storytelling, our complicated relationship with the environment, and how to prepare for an unknown future.  The story is set in and around Mt. Monadnock and the characters journey across New Hampshire, making the book especially interesting for local readers.  Copies are available to request through our online catalog.
Bedford events include:
To register for these and other upcoming events, please visit the Bedford Public Library's online calendar.
The Big Read will culminate with a public discussion and book signing with author Andrew Krivak at the Bank of New Hampshire Stage in Concord on October 14, 2023. For a complete list of featured statewide events, Big Read partner organizations, questions, and more information, visit http://www.nhhumanities.org/bigread, or contact New Hampshire Humanities by phone at (603) 224-4071 or by email at info@nhhumanities.org.
NEA Big Read is a program of the National Endowment for the Arts in partnership with Arts Midwest.