Summer Reading 2023 - Camp Kindness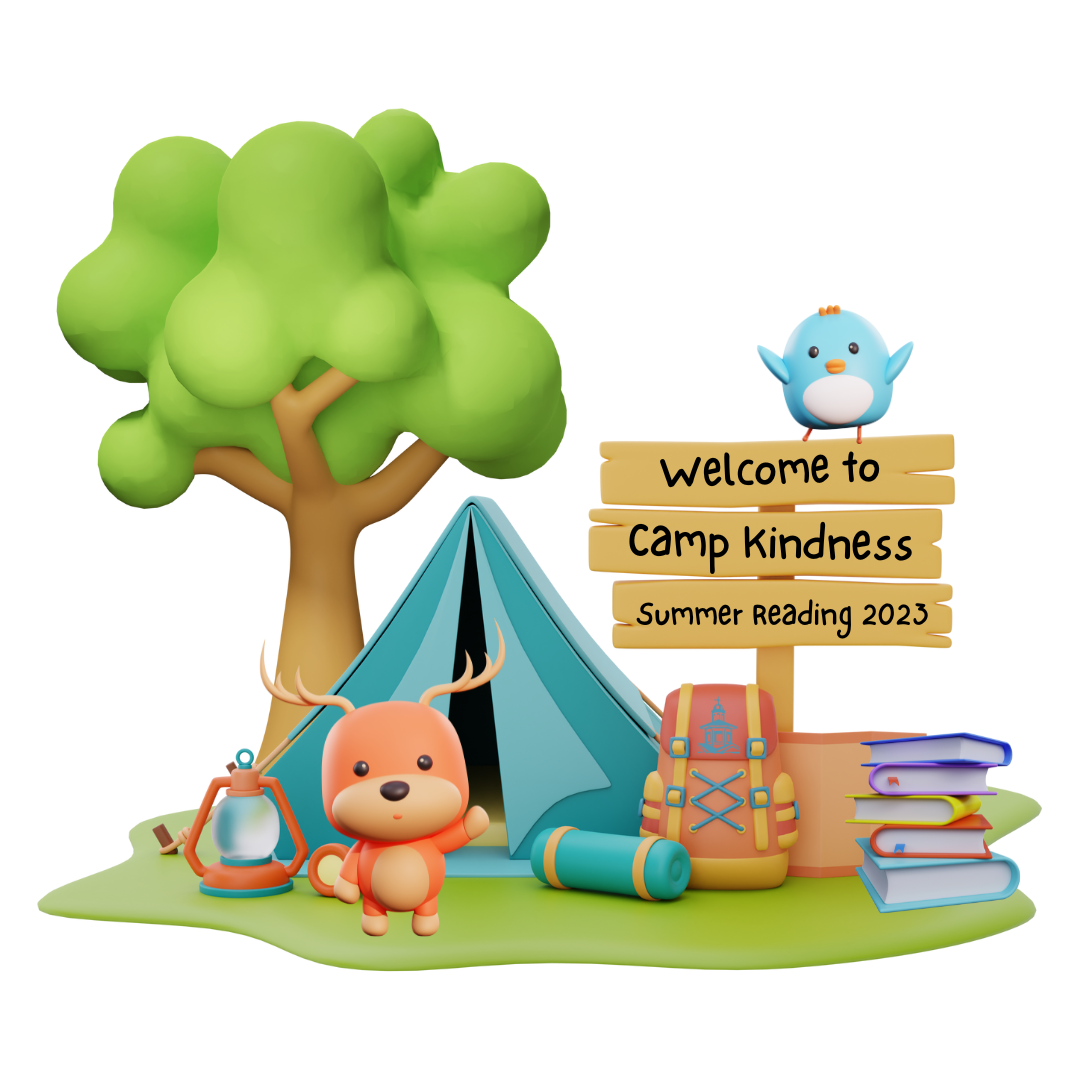 Registration now for the 2023 Summer Reading Challenge in Beanstack!
You can also download the Beanstack app by searching 'Beanstack' in your app store. Look for the blue heart logo!
Watch our 2023 Summer Reading Trailer!
Who can participate?
Kids who are ages 0-12, with caregivers who are Bedford library cardholders.
How does the challenge work?
The 2023 Kids' Summer Reading Challenge will run from Monday, June 19 through Friday, August 4. Register and log your time in Beanstack, either through the desktop site at bedfordnhlibrary.beanstack.org or through the mobile app by searching 'Beanstack' in your app store. Paper logs will also be available and participants are encouraged to use their choice of digital or paper or both.
For every hour of reading logged in Beanstack, participants will earn a virtual raffle ticket. The raffle ticket can be redeemed in Beanstack for your choice of prizes.
Reading time does not have to be logged daily. We recommend logging your time weekly and in time to get your raffle tickets in before we pull winners on Friday afternoon. Any reading you do counts! Picture books, audio books, ebooks, chapter books, or re-reading a favorite book all count. Just make sure to log your time in Beanstack.
What is Beanstack?
Beanstack is our summer reading challenge software that makes it easy to track reading time for the whole family. Beanstack is completely free to use. If you've created a Beanstack account in the past, it still exists! You can log in with the same username and password to register for this year's challenge. Once your account is set up, you can log your reading time in the app or on the Beanstack website. You can also choose to use paper logs at this point, and our Children's Room staff is happy to input your reading time into Beanstack for you. As you enter your time, you'll automatically accrue virtual raffle tickets in Beanstack. Don't forget to visit the 'Ticket Drawings' tab to enter your tickets for the prizes of your choice. If you've never used Beanstack before or you get stuck, please stop in or call us for assistance (603-792-1389), we're happy to help!
Summer Reading Prizes!
Registration Prize: Once you have signed up in Beanstack, stop by the Children's Room to pick up your summer reading lanyard to fill with buttons! Each week we'll have a different button featuring a camp critter and kindness attribute. Collect 1 each week for all 7 weeks of summer reading just by coming in!
Raffle Prizes: Every Friday afternoon we'll pull 3 winners! Raffle baskets are on display outside the Children's Room. One hour of reading = one ticket in Beanstack! Don't forget to enter your tickets into your choice of baskets in Beanstack by clicking on the 2023 Kids' Summer Reading Challenge and scrolling over to Ticket Drawings.
Halfway prize: Every participant will be able to pick up a coupon for a free cone at Hayward's Ice Cream July 10-14, just in time for national ice cream day on July 16!
Finale Prize: At the end of our program a free prize book to keep! We'll begin handing these out on Friday August 4. In addition, one of our final raffle prizes will be the chance to pie a librarian in the face at our finale party on August 4!
Prizes for Ages 0-3: Once you register in Beanstack, come pick up your summer crayon box in the Children's Room! We'll have a different color crayon to collect each week just for coming in. Ages 0-3 can also earn raffle tickets in Beanstack, so don't forget to log your reading time!
Summer Programs and Events
Check our calendar to see all the fun kids events this summer!
Summer storytimes will run from June 19-August 3. Registration opens on June 1.
Registration for all our other events generally opens 2 weeks before the event date. Please keep an eye on our website and social media for upcoming events and registration dates!